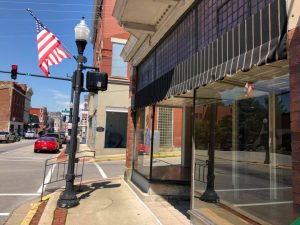 The Bourbon County Democratic Party along with Amy McGrath, Democratic Party nominee for Kentucky's Sixth Congressional District, and Emily Ferguson, candidate for State Representative for the 72nd House District, are opening a campaign office in downtown Paris.
Located at 600 Main Street, the office is designed to give the citizens of Bourbon County and the surrounding areas better access to their candidates. Democratic candidates throughout Bourbon County will utilize this space to increase their availability to voters throughout the fall. Campaign materials, including yard signs will be available for pick up as well.
McGrath said that she is looking forward to opening the new office in Paris. "I love Paris and am so excited that our campaign will now have working field offices in at least 12 of the district's 19 counties. We won all but one county in the May primary, including Bourbon County, because the voters understood that I am someone who is deeply committed to representing all parts of the district when I am elected to Congress, not just the largest (Fayette) or where I live (Scott)," said McGrath. "Having a local office means that I will be spending even more time in Paris and that residents will have a place on Main Street they can come to volunteer, or ask questions, or find out more about me and my vision for Central Kentucky."
"I fundamentally believe that to fully represent every citizen of the 72nd District, it is essential to be present, available and active in the community," said Ferguson. "Although I already have an office at Overly & Johnson, I am so pleased to have this space where voters can feel free to come in throughout the day to learn more about me and my campaign. We recently opened a similar office in Carlisle, and hope to open one in Bath county as well. I think that spending time working in each community over the next few months will help me better understand the issues faced, create more opportunities for people to come voice their concerns, and help me learn more about each and every corner of the district."
"This is an important year for Bourbon County. In addition to the Congressional and State Representative races, we are electing our county and city officials who make important decisions that affect our daily lives," said Mark Offutt, Chairman of the Bourbon County Democratic Party and Candidate for Bourbon County Judge/Executive. "We wanted to make sure that the citizens of Bourbon County have a place to come talk about the issues and get involved in the political process as they learn more about each and every one of our great candidates. As a current Magistrate and candidate for County Judge, it is important to me that I am available to hear the concerns of the citizens of Bourbon County, and I look forward to doing so in our new office on Main Street."
McGrath will hold an Office Grand Opening Potluck August 4th at 1:30 p.m. at 600 Main Street in Paris. Everyone is invited and encouraged to bring their favorite dishes.
Information and yard signs will be available for pick up for all Bourbon County Democratic Candidates, including: Mark Offutt (Candidate for County Judge/Executive), Tim Lizer (Candidate for PVA), Mark Matthews (Candidate for Sheriff), Beverly Smits (Candidate for Circuit Clerk), and Magisterial Candidates Cecil Foley, Jimmy Mason, Donnie McCarty, Don Menke, Tony Sosby, Randy Taulbee and Cliff Williams.
The shared office is also looking for volunteer help. You can learn more about Amy McGrath at www.AmyMcGrathForCongress.com. She can be reached at (859) 402-3959. You can learn more about Emily Ferguson at www.FergusonForKentucky.com. She can also be reached at (859) 707-1168.