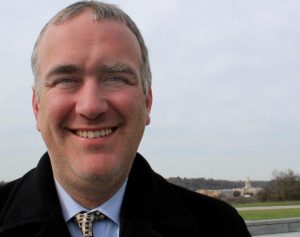 Bourbon County Democrats will welcome recently elected party chair Ben Self at a county-wide meeting on March 19 at 6:30 p.m. in the Bland Building at the county park. Everyone is invited to attend.
All Democratic candidates up for election in May have also been invited to attend and will have an opportunity to meet and talk with their constituents. Sannie Overly, who has served as the 72nd District representative since 2007 is not running for re-election; however, another Bourbon County woman, Emily Ferguson, has filed to run for the seat. She will be at this meeting as well.
Ben Self is not the typical party chair–he is a graduate of Massachusetts Institute of Technology with degrees in electrical engineering and computer science. He and three fellow MIT graduates developed Blue State Digital, the strategy for online political fundraising and social media networking that helped to elect Barack Obama in 2008. He is also a co-founder of West Sixth Street brewing and the Bread Box project in Lexington. He served as Technical Director of the Democratic National Committee.
In a press release issued after his election as KDP Chair, Self criticized recent Republican-led efforts in Kentucky including the so-called 'right-to-work' law and the proposed pension reform: "In just one year, we've seen our governor and Legislature destroy our workers ability to organize, decrease their wages, gut our education system and now they're fighting a war against our teachers and state workers," Self said, adding "Enough is enough."
"We believe that everyone who works should be able to afford a roof above their head and food on the table. We believe that no Kentuckian should die for lack of access to health care. And we believe that access to a good education is a fundamental right." To accomplish those things, Self said, Democrats need to win elections and build party capacity through efforts including recruiting candidates and training activists.
With these goals in mind, please join with Bourbon County Democrats on March 19 at 6:30 p.m. at the Bland Building in Bourbon County Park on Legion drive to meet Ben Self, Emily Ferguson, and all the candidates of Bourbon County who are running for election or re-election in May.